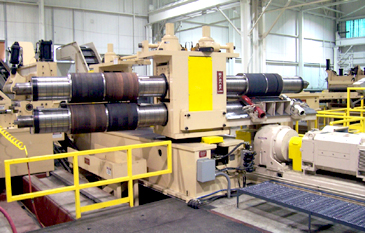 12" x 72" Turret Head™ Slitter can exchange heads in less than two minutes. Scrap guides are preset with the slitter setup.
Strip Tensioning: A looping pit and Tensioner guarantee straight-wall tight coils throughout the entire .065" though 3/8" gauge range. An End Lift Pit Table carries the slit strips across the looping pit from the Slitter to the Tensioner. A Hydraulic Tensioner with quick-change pads and separators arbors is utilized to generate coil winding tension in both tight-line and single-loop slitting modes. Quick-change Tensioner pads that slide in and out of the Tensioner like a drawer are cleaned and re-covered off-line. The Tensioner strip separators are positioned for running or off-line set-up in 1-minute without manhandling or crane lifting.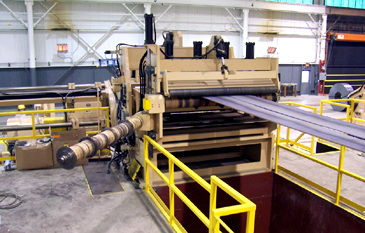 Heavy Gauge Hydraulic Tensioner with Quick-change Separator.
Exit End Equipment: The Overarm Separator is mounted on a heavy Exit Unit frame for rigidity. Supported from both ends, Overarm deflection and resulting misalignment that causes coil side-wall scuffing and coil oscillation is eliminated. Overarm mounted coil tail hold-downs prevent hi-strength coil tail clock-springing during tail-out and coil OD banding. A Hydraulic Feed Table operates in concert with an Overarm mounted deflector plate to form a threading "funnel" that directs slit strips from the Exit Pass Line Roll into the Recoiler gripper bar. The Recoiler drum is manufactured from 2" thick forged steel segments heat-treated to Rc 58 for wear resistance. A 3" diameter solid steel gripper bar grips the strips against a heat-treated serrated steel anvil. The Recoiler includes a massive single-unit parallel shaft helical gear reducer with a 14" diameter main shaft with an Outboard Support to eliminate drum deflection.

Finished slit coils are unloaded from the Recoiler and transported to a 4-Arm Storage Horn by floor level Coil Car. The Coil Car is equipped with a powered Overarm coil stabilizer to support narrow slit coils during unloading, and a wireless radio pushbutton control that permits an operator to maintain a safe distance from the Car and coil while operating.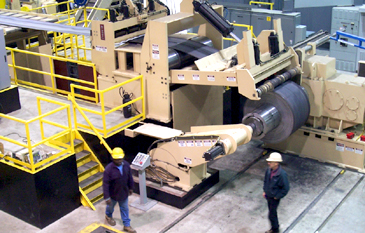 Strip Tensioner, Overarm and Recoiler.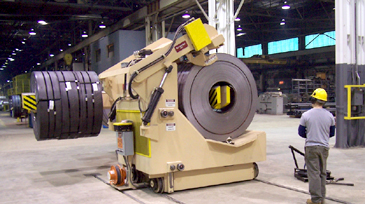 Coil Unloading Car with Power Overarm Stabilizer and Wireless Controls.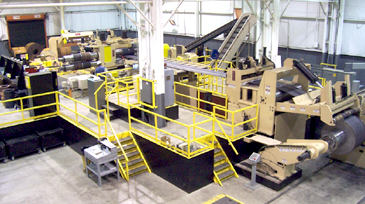 80,000# x 72" x 3/8" Slitting Line exit end view.



Wheatland Tube Company
1 Council Avenue, P.O. Box 608
Wheatland, PA 16161-0608
phone: (724) 342-6851 fax: (724) 981-7437
www.wheatland.com