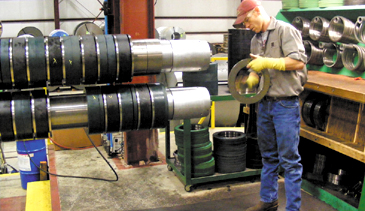 Magic Steel's Turret Head™ is equipped with two (2) slitter heads supported in massive precision machined solid steel bearing housings. The slitter heads at the "set-up" station are completely exposed and easily accessible with no housings, bases, or structures to impede tooling removal and installation. Free and clear arbor access and its quick-change ability give Turret Head™ Slitter users the ability to make more set-ups and head changes per shift than with any other style multi-head slitter or tooling transfer design. In addition, Turret Head™ Slitters are equipped with multiple slitter heads that are not disassembled or uncoupled in order to change heads. This unique patented design makes Turret Head™ Slitters more rigid, more precise, and more reliable than any other slitter or tooling transfer device.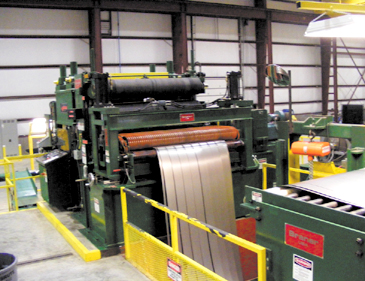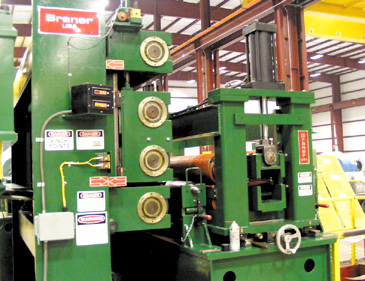 A Non-Marking Belt Tensioner and a Non-Marking "Duplex" Roll Tensioner combine to generate tightly wound straight-walled slit coils. The Belt Tensioner and Duplex Roll Tensioner can be engaged independently or in tandem. The patented Duplex Roll Tensioner is fitted with two (2) sets of tensioning rolls . . . one set for "wet" strip and one set for "dry" strip. Switching from wet rolls to dry rolls is accomplished by pushbutton in a matter of minutes.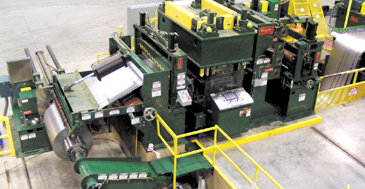 A view of the exit end of Magic Steel's Slitting Line clearly illustrates the compact high-pass line system configuration.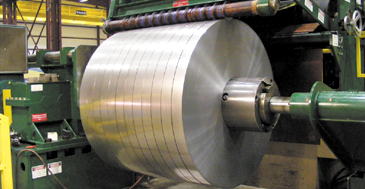 Magic Steel's Slitting Line can produce 20" and 24" ID slit coils. Patented "Speed-Load" Fillers allow Magic Steel to change from 20" OD to 24" (or vice-versa) in one-minute. The Overarm Separator hold-down frame is supported from the inboard and outboard ends to assure the Overarm tooling is square anad parallel with the Recoiler drum, assuring straight-walled slit coils. The Overarm features a unique "side-adjust" to allow quick correction of mis-alignment that might affect coil edge quality.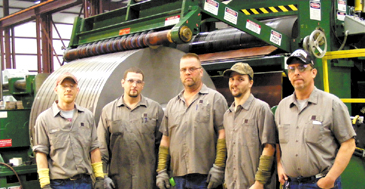 A skilled and dedicated crew operating high-quality high-performance equipment has made Magic Steel's new Decatur, AL coil processing center a complete success.

Exceptional Performance, Bullet-Proof Reliability, plus know-how accumulated from building 600+ Slitting Lines made Magic Steel's decision to install its 4th Braner/Loopco Turret Head™ Slitting Line a "no-brainer."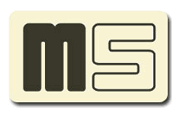 Magic Steel Sales, LLC
908 Maero Street NW
Trinity, AL 35673
phone: (256) 355-8222 fax: (256) 355-8223
www.magicsteelsales.com