Schiller Park, IL - January 24, 2002 - Braner/Loopco, a leading builder of heavy-duty high production coil slitting lines, automatic slit coil packaging lines, and precision leveling/cut-to-length/blanking systems, announces the development of a new time and labor saving system to secure and lock slitter knives and spacers onto slitter arbors.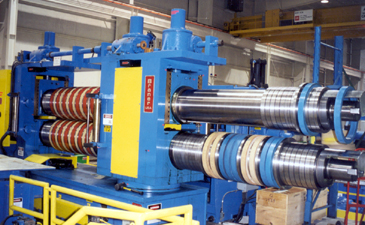 Pushbutton Lock-Up Turret Head Slitter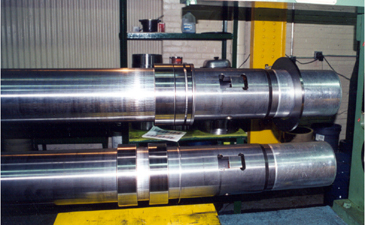 Locking fingers retracted for re-tooling
The new Slitter Lock-Up System completely eliminates unwieldy threaded "spin-on" arbor nuts historically employed to secure slitter tooling, and replaces them with hydraulically engaged hardened precision machined tool steel "locking fingers" that are built into the upper and lower slitter arbors.

After the knives and spacers are installed onto the slitter arbors and the tooling set-up is complete, the attendant powers-up the Lock-Up System via pushbutton, automatically engaging the locking fingers and securing the tooling onto the slitter arbors.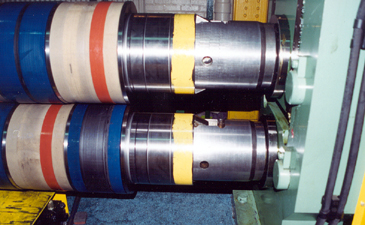 Locking finger engaged
The Lock-Up System is hydraulically powered and is designed to generate the enormous compression force required to prevent undesirable tooling wobble caused by dished and/or insufficiently tightened slitter tooling. Benefits of the new Braner/Loopco Tooling Lock-Up System include:


Improved slitter productivity by eliminating the time required to handle, thread, and tighten heavy unwieldy lock nuts onto the arbors
Improved housekeeping with the elimination of lock nut grease
Reduced repair costs associated with lock nut thread and grease fitting maintenance
Elimination of slitter damage caused by hanging and dropping heavy lock nuts on the arbor journals
Improved slit edge quality by providing guaranteed and uniform compression force necessary for maintaining prescribed knife clearances.