Roseville, MN - Ratner Steel Supply Company, a carbon steel coil and sheet distributor and coil processor has installed a Braner/Loopco Single-Loop Turret Head™ Coil Slitting and Slit Coil Packaging Line in Roseville, MN, a suburb just north of Minneapolis-St. Paul. The new Slitting Line is capable of processing 60,000# x 72" wide hot rolled black, pickled, cold rolled, and galvanized coils in gauges from .024" through 1/4" at line speeds to 1,000 FPM. The Slitting Line is equipped with Entry and Exit 4-Arms, Entry and Exit Crop Shears, a 150 HP Turret Head™ Slitter with two quick-change 9" heads, a unique "Loop-Control" Tension Stand that reduces looping pit depth requirements, and a 250 HP x two-ratio Recoiler. The Packaging Line is capable of quickly and efficiently straps and packages 1" to 24" wide slit coils weighing up to 10,000#.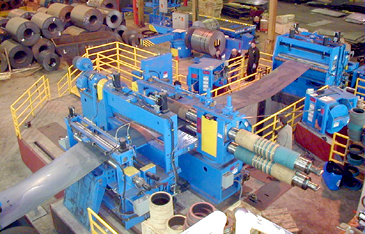 60,000# x 72" x 1/4" Single Loop Turret Head™ Slitting Line.
Compact Design: Although the Ratner Steel Slitting Line is well equipped and is designed to process 60,000# x 1/4" x 72" coils, the line is less than 45' long. The compact design reduces floor space requirements, allows for extremely fast coil threading, improves personnel safety and productivity by positioning all line components from entry end to exit end within the operator's sight lines, and makes delicate cameras and hard to view TV screens unnecessary. The compact Slitting Line employs the modern "hi-pass line" equipment arrangement wherein the strip processing equipment is elevated above the coil OD to eliminate "reverse-bending" as the strip is processed. Compact hi-pass line benefits include faster coil threading, elimination of equipment-induced coil-breaks, elimination of entry and exit pass line roll damage to the strip surface, straighter sidewall coils, and productivity unmatched by any other slitting line arrangement.

Turret Head™ Slitter: A 9" arbor x 150 HP two (2) head quick-change Turret Head™ Slitter produces precise width tolerance slit strips with minimum burr throughout the entire gauge range. The Slitter arbors are supported in precision machine tool bearings mounted in massive one-piece stress-relieved and precision ground solid steel block arbor bearing housings that weigh nearly a ton apiece.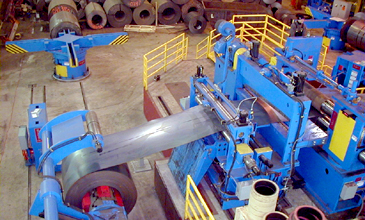 Strip runs over the Pass Line Roll to prevent surface marking. Lightweight "Red" Fillers handle 28"-32" ID master coils.
The rotatable Turret housing is supported on a 300,000# capacity anti-friction bearing, and the hydraulic cylinder positioned outboard arbor bearing housing is supported on zero-maintenance precision anti-friction machine tool slides. Huge aluminum-bronze slides contain the vertically adjustable upper arbor bearing boxes and allow "zero" axial arbor movement. The upper arbor bearing boxes are positioned by motorized anti-backlash screw jacks equipped with electronic encoder digital position readouts for quick and precise positioning. The unique Turret Head™ Slitter allows re-tooling and head changes to be accomplished faster than with any other slitter design.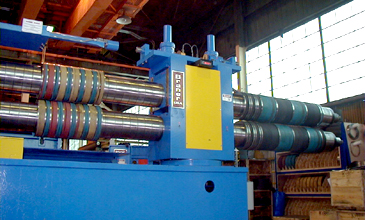 Completely exposed and accessible arbors minimize tooling time. Heads are exchanged in less than 2 minutes.