Four 1.250" thick x 2.750" wide aluminum-bronze blocks contain the vertically adjustable upper arbor bearing boxes and allow zero axial arbor movement. The upper arbor bearing boxes are positioned by motorized anti-backlash screw jacks equipped with electronic encoder digital position readouts. The design of the Turret Head Slitter allows slitter set-ups to be accomplished faster than with any other slitter design. The free arbors are completely exposed and accessible, making the removal and installation of knives and spacers easier and less tiring for the set-up person.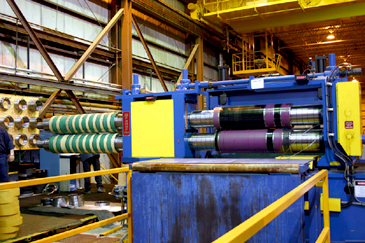 Completely exposed and accessible arbors reduces set-up time.
Cluster Leveler™: The Steel Warehouse slitting line is equipped with the ability to correct wavy-edge, cross-bow, and center buckle strip shape defects throughout the entire .015" to .250" gauge range. The Cluster Leveler™ is equipped with work rolls ranging in size from 1.500" to 3.000" diameters, supported by independently adjustable back-up flights. Set-up of the Cluster Leveler is automatically accomplished by a PLC based upon gauge and yield strength inputs from the operator. On-the-fly corrections can be accomplished through the PLC touch-screen controller or via joy stick manual controls. A memory is included to return the Cluster Leveler to a previous set-up by entering a job number.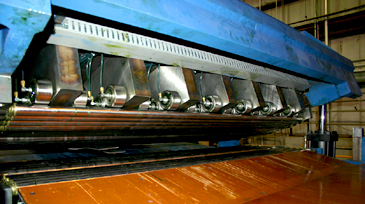 View of upper work rolls and back-up flights.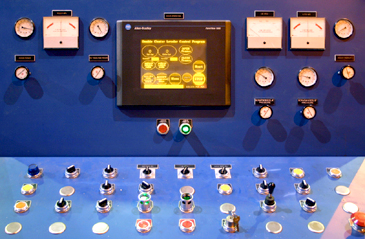 Touch Screen Cluster Leveler Control Monitor.
Quick-Change: The slitting line is designed with the ability to change from one job to the next in a matter of a few minutes. The Turret Head Slitter can change heads in one-minute. Spare tooling arbors are supplied with the Tension Stand and Overarm Separator to allow off-line set ups to be accomplished while the line is running. Re-tooled and locked-up arbors can be exchanged in a matter of minutes. The Tension Stand is supplied with removable pads that can be re-faced off-line and exchanged in one-minute.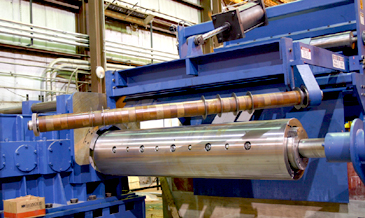 Swing-out Overarm arbor exchanges tooling in minutes.



Steel Warehouse Company, Inc.
535 West Forest Hill Avenue
Oak Creek, WI 53154
phone: (800) 877-8927 fax: (414) 764-4803
www.steelwarehouse.net