The rotatable Turret housing is mounted on a 300,000# capacity bearing, and the hydraulic cylinder positioned outboard arbor housing rides on zero-maintenance precision machine tool slides. Large aluminum-bronze blocks secure the vertically adjustable upper arbor bearing boxes and allow "zero" axial arbor movement. Huge upper arbor bearing boxes are vertically positioned by motorized anti-backlash screw jacks with electronic encoder digital position readouts that allow fast and precise vertical knife clearance adjustment. Because the exchangeable Slitter heads are never detached, shuttled, or disassembled, the Turret Head™ design is more rigid and precise than any other multi-head Slitter design. In addition, access to the set-up arbors is free and clear with no obstructions so re-tooling is accomplished faster than with any other slitter. A Turret Head™ Slitter exchanges heads in less than 2-minutes.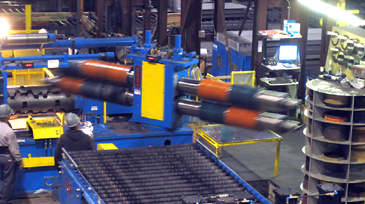 Turret Head™ Slitters set up faster, change heads faster, and occupy less floor space than any other Slitter design.
Exit End: The Amtex line is equipped with a Pad Tensioner that generates strip tension necessary to rewind tight straight-wall slit coils. Strip tension is adjustable and regulated from the main operator console. Entry strip separator tooling is mounted on a lightweight aluminum alloy arbors that exchange with pre-tooled arbors in 60-seconds. Tension Pads are also exchanged in 60-seconds. An Exit Shear is employed for squaring coil tails and splitting coil ODs. The Overarm Separator is solidly attached to the Exit Unit frame to eliminate frame deflection and resulting misalignment that causes coil side-wall scuffing and coil oscillation. A "swing-out" Overarm allows pre-tooled arbors to be exchanged in 2-minutes. A Hydraulic Threading Funnel directs slit strips from the Exit Pass Line Roll into the Recoiler gripper bar.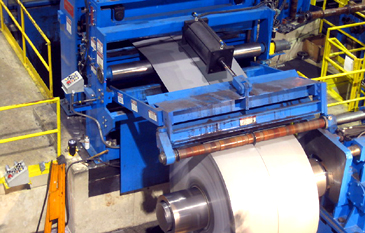 Exit end equipment generates strip tension; crops coil tails; and rigidly supports the Overarm Separator and Threading Funnel.
Recoiler: A 250-HP 2-ratio Recoiler is equipped with a massive Recoiler drum manufactured from custom forged 2" thick segments hardened to Rc 58. A 3" diameter solid steel gripper bar secures the slit strips against a heat-treated serrated steel anvil. The Recoiler drum is mounted on the 14" diameter output shaft of a 250-HP 1.2 service factor parallel shaft helical gear reducer.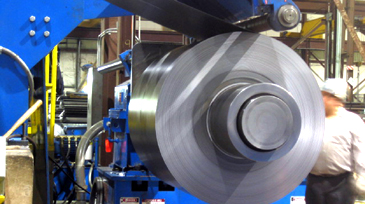 Massive 250-HP 2-ratio Recoiler has a 14" diameter main shaft.
Exit Coil Handling: Slit coils are removed from the Recoiler by Floor Level Coil Car and transferred to a 4-Arm Turnstile. Slit coils are individually unloaded from the Turnstile by a Slit Coil Downender that conveys the coils to a Strapping Machine and Coil Stacker.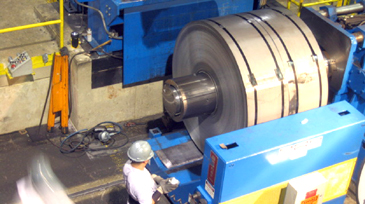 Slit coils unloaded by Floor Level Coil Car.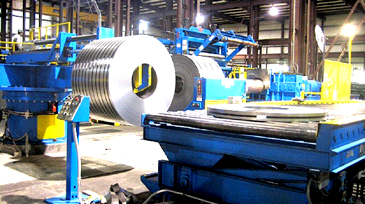 A Slit Coil Downender removes coils from the 4-Arm Exit Turnstile and feeds the coils to the Strapper and coil Stacker.


Amtex Steel, Inc.
700 Central Avenue
University Park, IL 60466
phone: (708) 672-2000 fax: (708) 672-2200
www.amtexsteel.com